Health
This was the other major factor that affected us at Base Camp. My health in particular got progressively worse. I was suffering from the same condition as Beth, lack of appetite, though initially not as severe. On the walk in I had eaten a little bit, though not a lot. The idea was that we would be able to rest at BC, get fully acclimatised and start to recover. However this just didn't happen.
The problem was that it wasn't obvious, to anybody, that I had a stomach bug. Loss of appetite is one of the main symptons of altitude and we all thought that this was the problem; and that it would go away as my acclimatisation improved. This didn't happen, in fact it got worse and I got weaker and weaker. Example of a typical days food: breakfast - two small (300ml) bowls of thin porridge, lunch - a bowl of canned fruit and a cheese segment (the highlight of the day), dinner - two mugs of soup and maybe a a spoonful or two of rice. Hardly enough to feed a sparrow. This went on for 2 to 3 weeks.
By the second week it started to get worse. I would get nauseas whenever I thought of food, and thew up whenever I tried to eat dinner (breakfast and lunch weren't a problem for some reason).. This went on for four or five days; it was the lowest point on the trip for me. It also coincided with a three-day period when it rained or snowed continuously (most other days would have an hour or two when it was fine) and I started to think that I'd rather be somewhere else.
We realised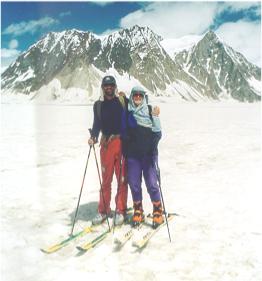 how serious the situation was. I needed to be able to walk out, but I hardly had enough energy to get to the mess tent. Helicopter evacuation was not an option. So we decided to take a punt, even though there were no real symptons that I had a stomach infection, we decided we should treat it in case I did. I started on a course of antibiotics and, within two days, was starting to return to normal. It was a great moment when I was able to eat some dinner without having to rush out of the tent. I was still extremely weak, and my stomach was very uncertain about things for the next week or two, however I was on the mend.
Our focus now became getting a lot of food into me, so I'd be strong enough to get over the pass and down the Hispar. For the last week there I tried to eat as much as I could, in between day trips in the fine weather. By the end of this I was starting to feel a bit more functional.
Enough of me. Beth was having her own problems. While she had shaken off the stomach problem, was eating well and seemed to be well acclimatised, her breathing wasn't all that good. We're not sure whether this was due to her being an asthmatic, or having a minor lung infection. Maybe the Burdett body just wasn't designed to operate at altitude.