The Walk In
Day 1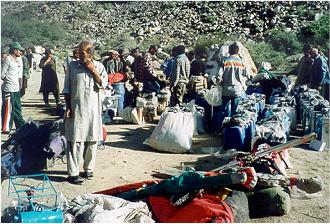 We awoke to a scene of great activity. Our HGP staff were busy organising all our loads and hiring the porters. What a lot of people! Over the next few weeks we got to know the HGP staff well, but at this stage we had only met our two guides Karim and Arif. It turned out that we had 12 staff - we could hardly believe it. We had asked for a couple of cooks and (maybe) a guide, however HGP decided to give us a high level of comfort - 2 guides, 3 cooks, plus an assortment of helpers and bottle-washers. Actually we needed a lot of staff as 3 of our group were leaving early so needed people to carry their stuff out, but I won't bore you with all the logistical issues this trip faced!
Anyway, with (now) 24 of us at base camp most of the time we needed a lot of food and gear. All up we needed 107 porters to carry of this!! We had thought we would have 50 or 60 porters, but 107? We almost fell over with astonishment. This trip was starting to become big and develop a lot of momentum. We certainly started to feel like the privileged class with so many people working for us.
HGP had just purchased a new set of tents. Pakistani-made, their design and weather-proofness has yet to catch up with foreign standards, and they would be completely unable to cope with average New Zealand weather. Our trip's doctor Dave, the sole Aussie in the group, early made his mark as an expert by showing the staff how to erect the large mess tent that was to form the centre of our community life for the next 4.5 weeks. The individual dome tents had toggles to tie back the unzipped doors, and again Western expertise was necessary to show the staff how the toggles worked.
With all this going on we didn't get away till 8am, which turned out to be the latest start on the trip. The day started off as quite a pleasant walk through the village of Askole, but within an hour or two we discovered why late starts aren't such a good idea in this part of the world. It started to get seriously hot - the previous day Alan had measured it as being over 40 degrees in the shade and I well believe it. The heat completely sapped my energy and none of us had enough water with us. To make matters worse we were now at over 3000 metres, which is high enough for any uphill to become a major struggle. Still, it was an interesting day as we traveled up the Braldu River (which heads towards K2). This area is so full of history - the Braldu is the access point for more extreme climbing than anywhere else on earth; and as we walked up the track we thought of all the people who had gone before us, and all the significant achievements and adventures which were in front of them.